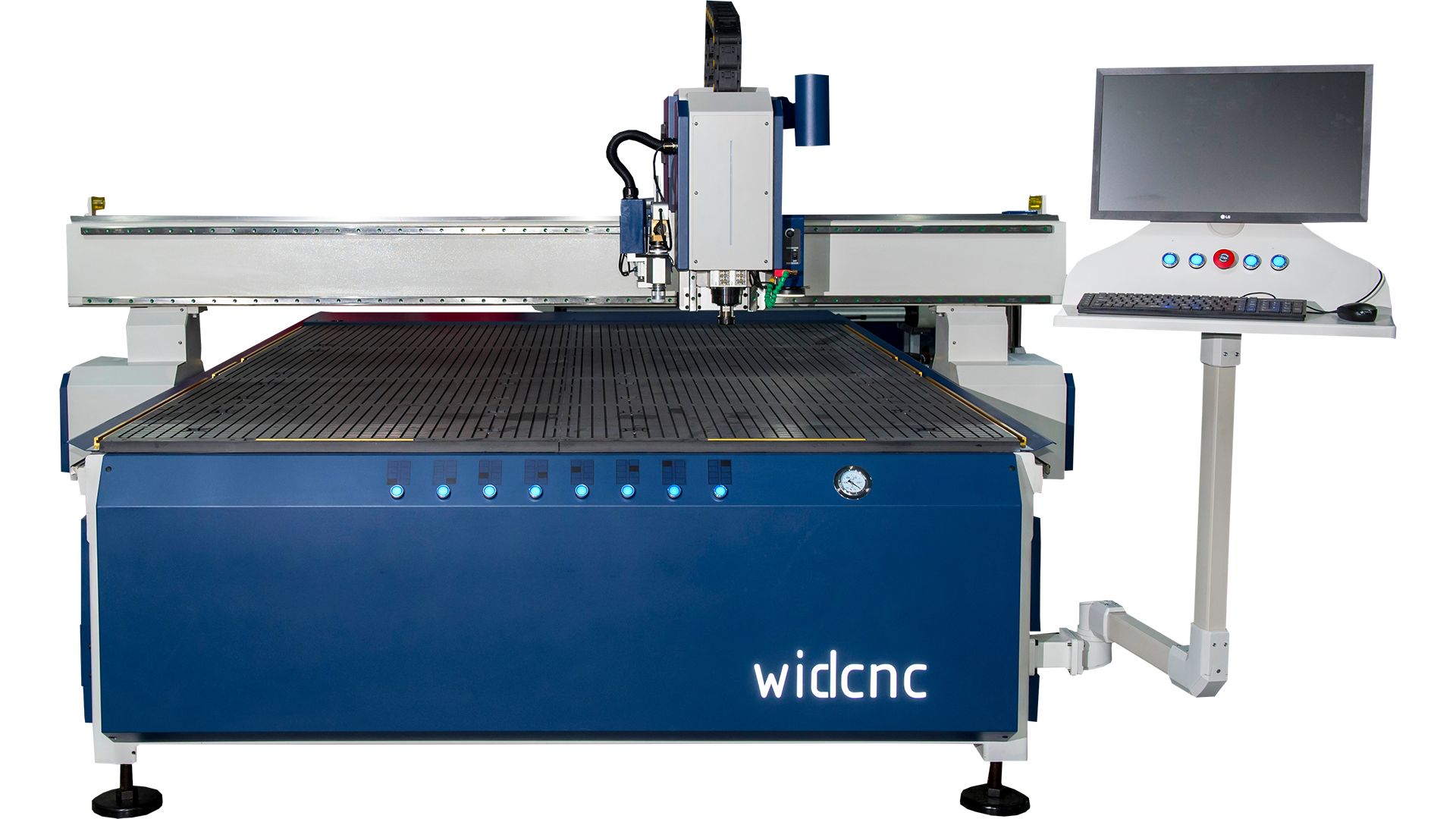 widcnc R200K
The widcnc R200K is designed to respond effectively to the needs of the demanding professional market. We have developed a precise, robust, reliable and technologically advanced equipment. The robustness and precision of construction, as well as its high precision travel systems coupled with the servo motors, provide unmatched cutting quality.
The widcnc R200K comes equipped with all the elements needed for a great job, such as "Mist Cooling", linear rail lubrication, 8 electrically operated vacuum zones, tool sensor, as well as an optional automatic tool change system.
The widcnc R200K incorporate an optical reading system for positioning and cutting recognition to allow you to cut printed materials with extreme precision.
Dimensions (W x L x H):
Machine: 3050 x 3750 x 2300 mm | Crate: 2280 x 3900 x 2220 mm

Weight (kg):
Machine: Approx. 1750 kg | Crate: Approx. 2050 kg
Power: Three phase AC 380V 50/60Hz

Travel speed: up to 50 m/min
Endless Applications
Cut with the knife or the mill and engrave various materials. Automate processes with the optional automatic tool change.
Easy to use software
Intuitive software with powerful tools, suitable for both beginners and professionals.
Best CNCs on the market
We have a complete range of CNCs capable of meeting the most demanding needs in the market. Oscillating knife and optical reading for printed or sensitive materials.
First class materials
We guarantee reliable, robust and accurate equipment with unmatched working capacity. Professional and fast response technical service.
R200K
Travel speed up to 50 m/min
Industrial tubular chassis, resistant to corrosion and stress;
Z axis, aluminum with anti-corrosion treatment;
Work area 2050 x 3050 mm;
Height Z axis up to 200mm;
X/Y Axis: High precision helical rack and pinion;
Z axis: High precision ball screw;
25mm linear guides;
7kw air cooled Italian HSD spindle;
Electric oscillating knife with 24,000rpm;
CCD camera for optical reading and positioning;
Servo Motors with planetary gearboxes;
Embedded computer;
Vacuum table with 8 zones, electrically operated;
Two 7,5kw vacuum pumps, with filter and safety valve;
2.2kw industrial vacuum cleaner with bag;
Automatic lubrication system for linear guides;
"Mist Cooling" tool lubrication and cooling system;
Automatic tool sensor;Vectric VCarve Pro software;
Network and USB connectivity;
R200 ATC
Travel speed up to 50 m/min
Industrial tubular chassis, resistant to corrosion and stress;
Z axis, aluminum with anti-corrosion treatment;
Work area 2050 x 3050 mm;
Height Z axis up to 200mm;
X/Y Axis: High precision helical rack and pinion;
Z axis: High precision ball screw;
25mm linear guides;
HITECO 9.5kw air-cooled Italian spindle;
Automatic tool change with 8 units;
Electric oscillating knife with 24,000rpm;
CCD camera for optical reading and positioning;
Servo Motors with planetary gearboxes;
Embedded computer;
Vacuum table with 8 zones, electrically operated;
Two 7,5kw vacuum pumps, with filter and safety valve;
2.2kw industrial vacuum cleaner with bag;
Automatic lubrication system for linear guides;
"Mist Cooling" tool lubrication and cooling system;
Automatic tool sensor;
Vectric VCarve Pro software;
Network and USB connectivity;